System of ethic in Agora S.A.
A comprehensive system of ethic adopted by Agora S.A., comprising: Agora Code of Ethics, internal policies and regulations, external industry codes, Compliance Officer and a whistleblowing system. Communication and education of employees are two other elements crucial for maximum system effectiveness in this aspect.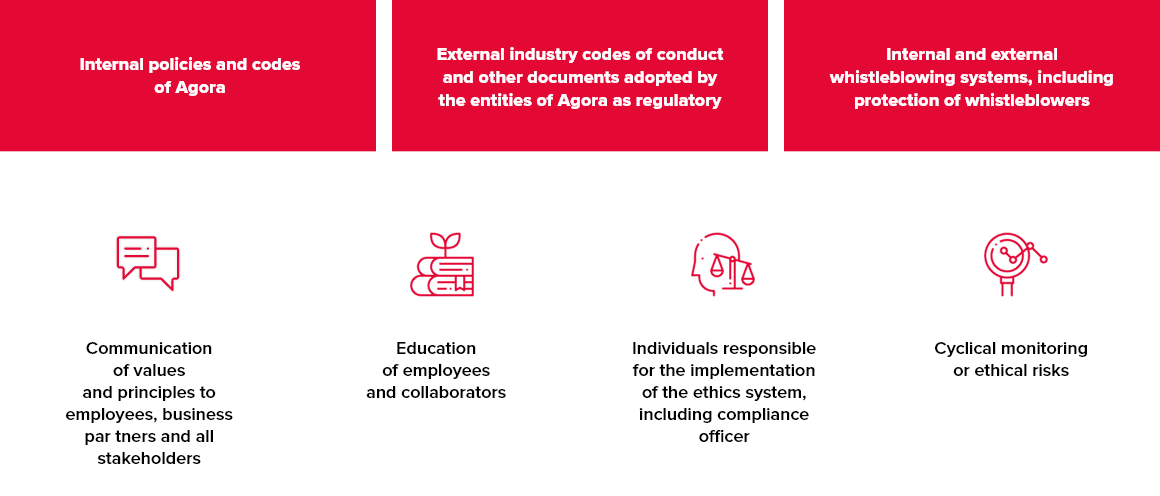 Agora Code of Ethics
Agora Code of Ethics is an internal document, addressed to all employees and collaborators of Agora. While the document summs up all previously adopted internal and external regulations in the areas of ethics and anti-corruption, its main role is to describe all principles and behaviours are encouraged and expected by Agora and those the company deems wrong or unacceptable.
A set of indications and values, it is a manifestation of a responsible and transparent approach in the following areas, each represening consecutive section of the document:
DIVERSITY IN THE WORKPLACE – describes the main workplace principles: cooperation, equal treatment of all employees and collaborators as well as mutual respect;
FAIR EXTERNAL RELATIONS – specifies what constitues fair external relations and high ethical standards in dealing with clients, suppliers and contractors
RELATIONSHIPS TRANSPARENCY – covers transparency in the workplace, including in relations with business partners, suppliers and contractors, as well as employment in Agora in the context of other professional and political activities;
COMPLIANCE AND ANTI-CORRUPTION – indicates methods for preventing fraud and corruption in the company;
COMMITMENT TO THE REPUTATION OF AGORA ­– outlines the principles of communication and presentation o information about the company and proper commitment to its reputation;
INFORMATION SECURITY – outlines the handling of confidential information, trade secrets and personal data protection.
Agora Code of Ethics applies to all: employees, collaborators, executives of Agora S.A., regardless of their function or positions
Agora Code of Ethics specifies all prinicples that should be observed by Agora's employees and collaborators in relations with all stakeholders; compiles key documents with detailed instructions for specific areas; describes the whistleblowing system, including the contact details of relevant individuals who can offer assistance in ethical matters as well as advice on who can help in determining whether an action is in line with the codes an values of the company, plus a glossary of key definitions
Whistleblowing system in Agora S.A.

The following channels and forms of reporting cases related to workplace discrimination and mobbing are currently available in Agora:
internal – confidential:

contacting the in-house anti-discrimination and anti-mobbing officer (e-mail)
contacting Agora's Compliance Officer (e-mail, phonecall or personal contact)

external – confidential and anonymous

contacting an external Ethics Line (online platform, e-mail, telephone available between 7:00 and 18:00)
Any report, question or suggestion, submitted via the portal, e-mail or Ethics Line, reachers relevant experts who remain in contact with the whistleblower. The system ensures the whistleblower's anonymity and the correspondence is encoded and only the experts of Ethics Line can access it. The information can be passed to Agora's Compliance Officer upon the whistleblower's express permission. Ethics Line provides assistance to Agora in solving reported cases.
Twelve cases were registered via the Ethics Line most were suggestions (nine) and three were reports of misconduct in 2019. Some were reports that required verification and checking as potential cases of corruption, others were questions to which relevant answers were provided. Simultaneously, each case was directed to Agora's Compliance Officer and Anti-Discrimination and Anti-Mobbing (5 reports). Reports relevant to workplace relations were described in the human rights and the workplace section of this report (five cases in 2019).
An important element of Agora's ethical system is Code of Conduct for Suppliers and Contractors of Agora with key rules of cooperation for suppliers and contractors. Contractors of Agora have been obliged to read and observe the regulations listed in the document.
The document specifies codes in the following areas:
responsible relations with stakeholders
respecting human rights
fair competition
environmental impact and sustainable growth
ethics and transparency standards in relations with suppliers, contractors and business environment
compliance and anti-corruption
Code of conduct for suppliers and contractors of Agora

Our values
Our organization adopted the following values declarations: Agora's Charter, Code of Journalistic Ethics and Code of Journalist. Our values are: truth, tolerance, respect for fundamental human rights, helping people in need- More
Customer relations
To ensure the best quality of customer relations we have implemented Best Practices in Customer Service Code. We have also developed internal procedures for processes such as submitting claims, available in terms of service documents. Our product and service websites provide contact information for submitting comments and suggestions. We also ensure the security of customers' information and protect their personal data.
Responsibility in our industry
We are members of many domestic and foreign organizations.
We have signed: Code of Good Practice for Press Publishers, Code of Ethics in Advertising.
DIVERSITY
Diversity and openness are values integral to Agora Group's business operations as well as employment policy. Employees of Agora Group come from different backgrounds and cultures, exhibit various skills and talents, represent diverse thinking styles and viewpoints and have different life and professional experience.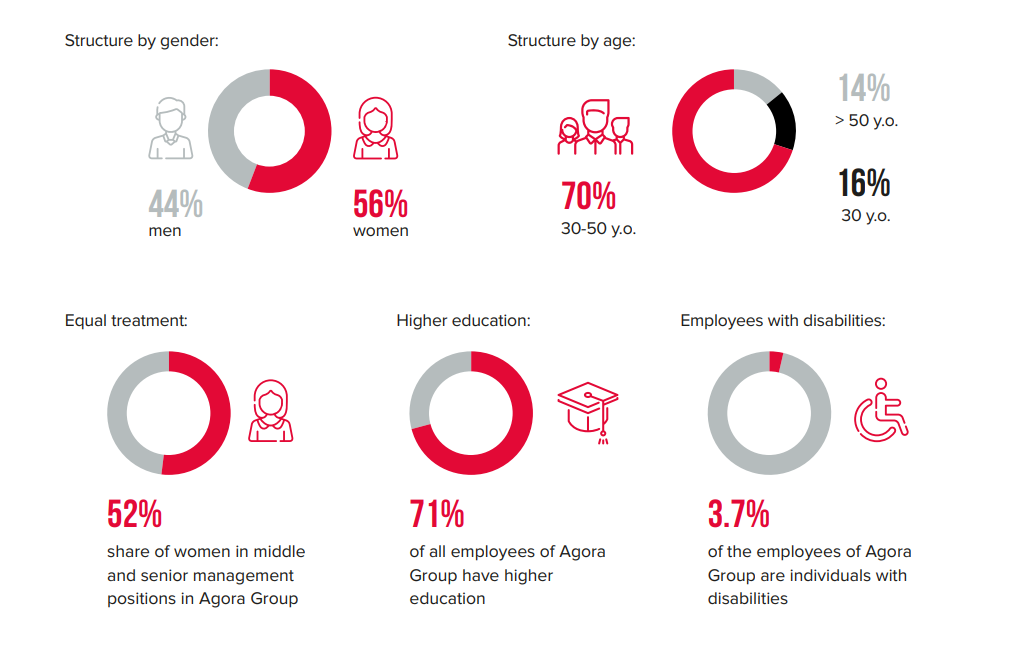 Diversity Management Policy in Agora Group
Diversity Management Policy in Agora Group embraces the principle of overcoming barriers of various nature: age, gender, physical condition, etc. – and its guiding principle is that an employee's potential is determined by their competence. Read more here.
As an employer Agora strives to create the atmosphere in the workplace that makes the employees feel respected and gives them the sense that they can develop and fully realise their professional potential. The company's corporate culture is founded on dialogue, openness, tolerance and teamwork. As an employer, Agora Group is committed to preventing discrimination, abuse and mobbing in the workplace. In 2003 the company adopted Anti-Discrimination and Anti-Mobbing Policy in Agora SA.
In 2018 Agora S.A. updated anti-discrimination and anti-mobbing policies to better serve the goal of creating a welcoming workplace that promoting diversity. The following changes were introduced; the function of Anti-discrimination and Anti-mobbing Officer was established; the choice of channels for submitting questions or reporting on misconduct was expanded; the responsibility of management was emphasized; new categories of misconduct were added to the policy plus a report on misconduct template.
Agora Group is among the signatories of Diversity Charter
Agora Group was Poland's first media brand to sign the Diversity Charter and join other European employers who are committed to promoting diversity in the workplace.
Work-life balance
It is vital for Agora Group to ensure that their employees can maintain a good work-life balance and a healthy lifestyle. Each employee is offered access to a special platform where they can choose one or more options of recreational services in: sports, culture, tourism, etc. Additionally, employees of Agora receive special discounts on Agora's services and products, such as cinema tickets, newspaper subscriptions, special offers in online stores Publio.pl and Kulturalnysklep.pl.
Training and employee development opportunities
Agora employees are offered a variety of in-house and external training opportunities that allow them to gain knowledge, increase their qualifications and hone their skills. Group discussions, lectures, workshops and case studies contribute to their professional development.
Health and safety
Agora Group fulfils all legal and formal requirements and takes systemic measures to prevent accidents and injuries in the workplace. Agora Group has taken steps to develop a structural approach to health and safety in the workplace.
| | | | | | | |
| --- | --- | --- | --- | --- | --- | --- |
| | 2014 | 2015 | 2016 | 2017 | 2018 | 2019 |
| Number of accidents in the workplace | 14 | 9 | 14 | 13 | 12 | 7 |
Data: until 2017, not including Helios, until 2018 not including GoldenLine.
Working in Agora
Kariera.agora.pl provides an overview of the company, interesting facts for potential employees and job offers with direct links to the application form.
Dialogue with stakeholders
We ensure continuous two-way communication with our key stakeholders: readers, listeners, viewers, clients, business partners and community around us. We build relationships based on trust and reliability.
Forms of dialogue with stakeholders
Corporate governance
As a company listed on Warsaw Stock Exchange we comply with rules and follow the recommendations of Code of Best Practice for WSE Listed Companies 2016
INVESTOR RELATIONS
In order to ensure two-way communication with stakeholders, including investors and analysts we develop instruments (including online channels) and activities (such as special meetings) to facilitate interaction.
RESPECT INDEX
In 2018 Agora S.A. again was included in RESPECT Index of Socially Responsible Businesses of Warsaw Stock Exchange. WSE announced the 12th edition of RESPECT on 12 December 2018. Companies included in RESPECT are viewed as managed in a responsible and sustainable manner, thus are attractive to investors and characterized by a higher rate of return. Inclusion in RESPECT Index is a proof of Agora's commitment to ESG aspects (Environmental, Social and Governance).
SOCIAL AND SPONSORING ACTIVITIES POLICY OF AGORA GROUP
Agora Group has adopted a Social and Sponsoring Activities Policy, to regulate our social, educational, cultural, charity and sponsoring activities.
ENVIROMENTAL IMPACT
Agora S.A. is a media company that - in accordance with the idea of sustainable development and the adopted strategic directions of responsibility - has defined its impact on the environment and trying to reduce its impact on the natural environment.
Agora S.A. developed and implemented a policy for managing environmental impact, procedures and pro-environmental programs, as well as annual environmental goals and indicators of their implementation. Environmental policy of Agora S.A. is a document that presents an approach to managing environmental issues and applies to all employees and associates of the company.
Key areas of environmental impact on the basis of UN Sustainable Development Goals in particular Goals 6, 7, 12 and 13.