On May 31, 2023 the Agora Group has adopted an "ESG Strategy for 2023-2027" which defines the organization's goals in the areas of climate and environment (E), people and society (S), and governance and business practices (G). As a publisher of independent media, while running a variety of business projects, Agora in the coming years wants to focus on, among other things, successively reducing its carbon footprint and further supporting democracy and freedom of expression, as well as creating an attractive workplace that is open to diversity.   
Social responsibility has always been a hallmark of Agora. Today - given the challenges of the modern world - it is taking on a new dimension as ESG is becoming an integral part of planning the organization's future. That is why Agora's Management Board, in setting the business directions of all segments, has set its sights on the development of the entire Agora Group conducted in a sustainable manner and in accordance with the new ESG Strategy, the first in the company's history.  
The basis for setting strategic directions in the area of sustainable development of the Agora Group for 2023-2027 was the UN Agenda 2030.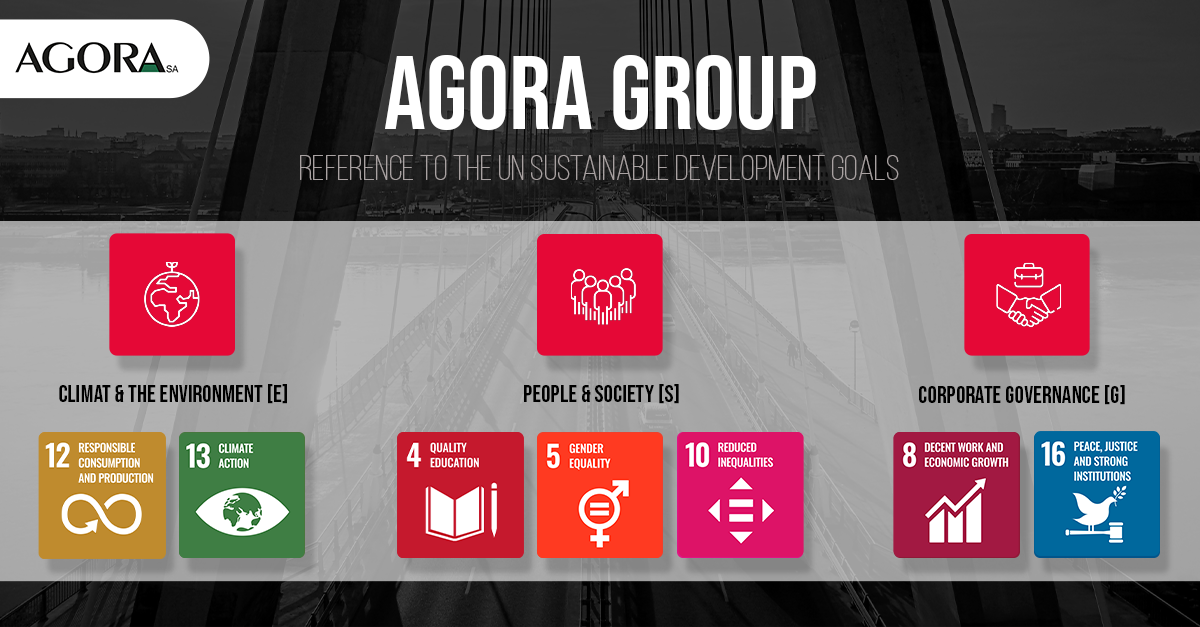 A FUTURE UNDER THE SIGN OF DECARBONIZATION AND CIRCULAR TRANSFORMATION (E)  
As part of its environmental efforts, Agora plans to take intensified action to reduce its negative impact on the climate, in particular by mitigating greenhouse gas emissions into the atmosphere as much as possible. In this way, it wants to contribute to the decarbonization of the Group across the value chain.  
In addition, Agora plans to implement closed-loop economy (circular transformation) practices in those business segments where this is applicable.  
SOCIAL RESPONSIBILITY IN THE MEDIA AND WORKPLACE (S)  
The social area is the sphere in which the Agora Group - as a publisher of independent media, engaged in projects benefiting the society since the very beginning of its operations - can implement ESG activities to the greatest extent. The company intends to do this by continuing its educational mission, which is to build public awareness of topics that are important from an ethical, sociological, political, scientific or cultural perspective, as well as those concerning the environment and climate. This is a key task for media operating in the information noise and in the face of fake news. To this end, Agora wants to develop partnerships and implement further projects, particularly for media education and the fight against disinformation, as well as activities for freedom of speech and media pluralism.  
As an employer, on the other hand, Agora is focused on team development and support for diversity, both in social life and in the workplace. As part of its strategy, it plans, among other things, to implement an employee volunteer program so that the entire Group can engage in pro-social activities on a broader scale than before.  
TRANSPARENCY AND RESPONSIBLE PARTNERSHIP (G)  
In the area of governance practices, Agora's priority is to systematize and develop an organization-wide compliance system. In addition, it plans to develop business partnerships, and through responsible relations with its counterparties, contribute to respecting human rights or environmental requirements in the supply chain.  
Detailed goals in all three areas, with indicated values and benchmarks, are presented in the Agora Group's full ESG Strategy for 2023-2027, which can be found at agora.pl/en/responsible-business - link.  
Strategic directions for the Group's business segments for 2023-2026 announced in April this year, on the other hand, can be found in a presentation at agora.pl - link.  
More information: Anna Fidos, ESG Manager; e-mail: anna.fidos@agora.pl
#AgoraESG #AgoraESG2027  
Agora S.A. was founded in 1989; it has been listed on the Warsaw Stock Exchange since 1999. Its activities include such areas as radio, cinema, outdoor advertising, print press and digital multimedia editions, portals and Internet projects, as well as book publishing and film production and distribution.   
Since its inception, Agora and its group companies have pursued social and environmental activities, initiating and engaging in a number of projects that contribute to the UN Sustainable Development Goals. The Agora Group bases its approach on democratic values, including promoting diversity in society and the workplace, building lasting relationships with partners and the company's environment. The Group keeps its corporate social responsibility practices, including sustainable development, up-to-date at: www.agora.pl/en/news/responsible-business.